BBC Docs shows Islamaphobia Rooted in Indian Government
News
The second part of the BBC's hit docuseries on the Indian Prime Minister and his extreme brand of Hindu nationalism hit the airwaves on Tuesday. Benefitting from statements and interviews from representatives of human rights organisations, journalists, students, and politicians, India: The Modi Question continues to provide overwhelming evidence that Modi is an increasingly authoritarian and anti-Muslim figure who shows no sign of letting up. [1]
Just as we did following the first part of the documentary, here are six key takeaway points from the second episode:
1 | Cow vigilantism is a thing
To the uninitiated, this might sound like a lame joke. It is not.
This phenomenon is an entire genre of anti-Muslim crimes perpetrated by Hindus who believe that being involved in the beef industry in any way is effectively asking for a horrific death.
The BBC documentary refers to the tragic case of cab driver Alimuddin Ansari, who – on 29 June 2017 – left for work at 7am as normal, only to later be dragged out of his vehicle and lynched by a Hindu mob.
His van was burned to the ground while a large group of attackers took turns kicking, punching, and taunting him. They claimed that he had been transporting beef.
In addition to the case detailed in the BBC documentary, there was another prominent case in March of 2022, where a group of cow vigilantes in Uttar Pradesh state violently attacked a 35-year-old Muslim man who was driving a van suspected of carrying cow bones and remains.
It was later revealed that the man, Mohammad Aamir, was guilty of nothing other than disposing of animal remnants as part of a village cleaning contract.
2 | NRC & CAA set in motion what was to come
After Narendra Modi was sworn in for his second term as Prime Minister in May 2019, he quickly took steps to enact a long anticipated log of citizenship and a new piece of legislation stipulating that religion be a basis for granting citizenship.
These came to be known as the NRC (National Register of Citizens) and the Citizenship Amendment Act (CAA), respectively.
In the state of Assam – where the discriminatory NRC concept was originally devised – it was reported that up to 700,000 largely Muslim citizens were immediately put at risk of being made refugees in their own country
Sharing a border with Bangladesh, Assam has long battled deeply negative lies, stereotypes, and misinformation regarding Indians who speak Bangla and are Muslim.
Compounding on this bitter intercommunal friction, the state continues to see the ruling Bharatiya Janata Party (BJP) and others claim that there are scores of illegal immigrants amongst 'natives'.
Under the NRC, many have been caught up by police demanding paperwork that proves their family has roots in the state. Many Muslims have been detained after being unable to provide such documentary evidence, despite being born in Assam, along with their parents and grandparents.
In addition, the CAA was established with a clear preference for immigrants who are anything but Muslim. In particular, asylum seekers from Afghanistan, Bangladesh, and Pakistan who are non-Muslim see their applications fast-tracked, while Muslims are explicitly barred.
3 | Revocation of Article 370
On 5 August 2019, Modi took the shocking step to revoke a clause in the constitution that, for over seventy years, had provided Indian-administered Jammu and Kashmir special powers and a degree of autonomy.
In revoking Article 370, the federal government in Delhi took direct control of the only Muslim-majority region of India.
Many BJP supporters within government and in the media expressed satisfaction that the area was now being reigned in, with suggestions that "separatism" was being combated.
In reality, nearly 4,000 people were arbitrarily detained immediately after the move, and telephone and Internet services were cut off, with thousands of soldiers being drafted in to instil an atmosphere of fear.
In addition, immediately prior to the revocation, many local political leaders were placed under house arrest.
In September 2019, the United Nations High Commissioner for Human Rights, Michelle Bachelet, told delegates that she remained "deeply concerned" over the Indian government's movements in Kashmir.
Bachelet, herself a former torture survivor, told attendees that the people of Kashmir must be "consulted and engaged in any decision-making processes".
"I am deeply concerned about the impact of recent actions by the government of India on the human rights of Kashmiris…

"[I] appealed particularly to India to ease the current lockdowns or curfews, to ensure people's access to basic services, and that all due process rights are respected for those who have been detained."
Habeel Iqbal, a Kashmiri human rights lawyer, recounted to the BBC in the second part of the series,
"People had been taken in the dead of the night, and they were subjected to extreme physical torture.

"One guy I met, torture was being done on him and at the same time, a public address system was kept near him, so that the entire village could hear him cry.

"It was the tactic to intimidate the entire population. They don't want the world to see what is happening in Kashmir."
4 | "Namaste Trump": US leader gave Modi air of legitimacy
Yes, as incredible as this might sound, the February 2020 visit of the sitting US President wooed many supporters of Modi and helped give him an air of legitimacy when it came to ongoing widespread protests around the CAA, NRC, and other anti-Muslim moves.
Greeting approximately 125,000 attendees at the Sardar Patel Gujarat Stadium in Ahmedabad, Trump declared Modi an "exceptional leader … and a man I am proud to call my true friend".
Trump also told the enormous crowd,
"America loves India, respects India … India gives hope to all of humanity."
5 | Minister paid legal costs for killers of Alimuddin Ansari
The tragic case of Alimuddin Ansari (raḥimahu Allah) was touched on in the beginning of this piece.
But what hasn't been mentioned is that a prominent government minister covered the legal fees for those accused of his lynching.
The documentary refers to Jayant Sinha, then Minister of State for Civil Aviation, who in 2018 was photographed with the suspected killers of Ansari, after agreeing to pay the legal costs for their defence counsel.
Sinha welcomed them to his home and honoured them with garlands.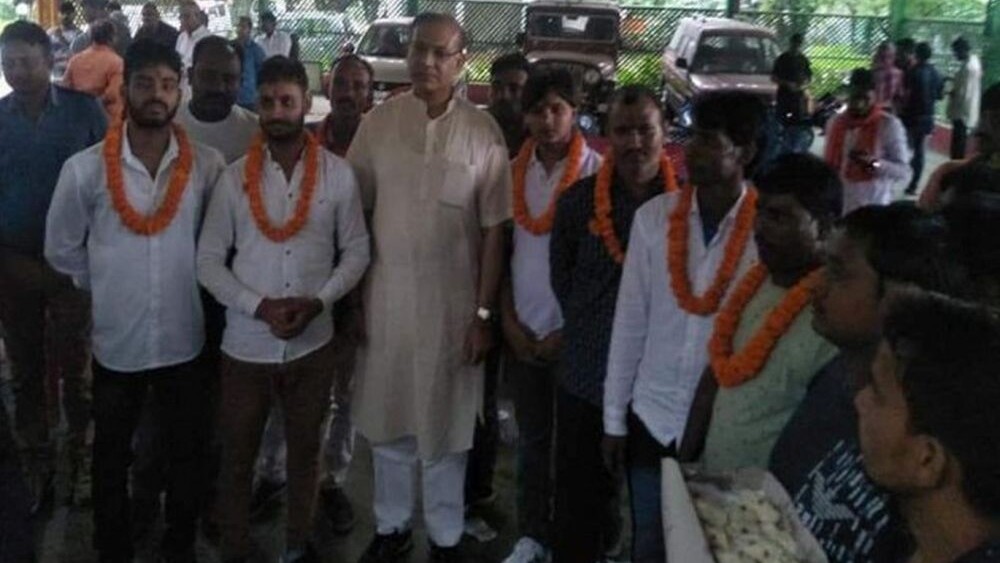 When a BJP politician openly invites those clearly suspected of a lynching to his residence, and shows them respect by garlanding them and paying for legal fees, there is a clear argument to be made that the state is openly supportive of such appalling crimes.
In this light, Ansari's widow told the BBC,
"They are the rulers of the whole country. If the rulers of the country support these people, we poor people can do nothing."
6 | Modi may not be going anywhere, but neither are we!
It is deeply upsetting to learn about the horrific abuses that Indian Muslims have been suffering from, since the emergence of Modi as head of the federal government in 2014.
Many states have witnessed rampant episodes of lynching and perpetrators are often let off the hook when courts typically claim that there is insufficient evidence to place charges.
At the same time, many Muslims who peacefully protested against the CAA, NRC, and the revocation of Article 370 continue to languish behind bars, with no prospect of bail. Many are treated as terrorists while the very system that defines them as such is the true terrorist.
The next general election is expected in 2024; it is unlikely that Modi will stand down.
After all, in just a decade, he has destroyed an India that – despite its flaws – was a 'functioning' state in the loosest definition of the word.
Following the end of this BBC series and the Indian government's desperate move to ban it, we must continue to expose the BJP, Modi, his supporters in state government, and elsewhere.
We must persist in raising the roof to ensure that the country does not ultimately engage in a clear-cut genocide against Muslims.
Source: Islam21c